hello ,
I continued working on this lady . I made the lower body with flat shoe laces , soaked in bronze coloured Powertex which I turned around the lower body base . I must admit ...powertex is a great product but very messy to work with ...
The head cover has been painted with the same powertex .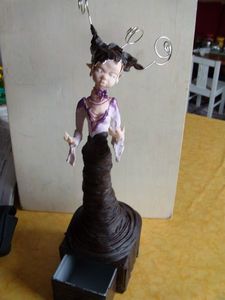 The upperbody was painted with the pink wall paint and given extra swung with mettalic paint ( violet) . I also used this paint on little details like the necklaces and head cover ...
Painting the face features ...and adding flowery decoration ...
Oh , while working the fingers on the right hand broke off , so I restaured it by sculpting new fingers on the hand with epoxy puty "MILLIPUT" . Unfortunately I ended up with one white hand , so I was forced to paint the hands too , giving the illusion this lady is wearing gloves . I used the same colors as on the upperbody ...
After all the painting work , this is how she looks like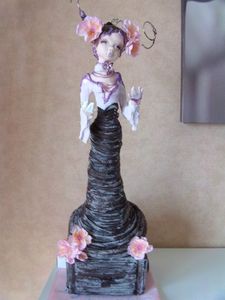 Oh and dont forget to check out her looong lashes hihi
Thanks for watching
PS : My sister was happy with her birthdaypresent and that made me happy too hihi