Hello dear friends,
After two full years I finally picked up my courage and my clay !! I start off making creations as gifts and "give aways" before I start selling or exposing anything . I'm very happy with my never-ending imagination and unique style but my sculpting level could get better . So this year will be a learning process in which I hope I will get better sculpting results and get that peace of mind and body I'm still searching for .
OK, stop talking and start sculpting ahhahaha . As usual, I start with the head which will determine the final height of the creation . I NEVER use any measurement tools, so it's always possible that the proportions are inaccurate but I really don't care about that , it's not important for me because I don't make "human like " figures .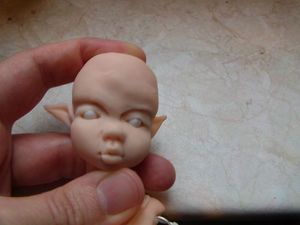 After making the upper body and hands with Fimo polymer clay , I added the lower body made of Darwi (doll) clay . I also used it to create the arms (sleeves) and the head cover .
What I'm trying to make is a doll / jewelry holder . The (fixed) position of the arms and the metallic wires on the head cover will allow to hang jewelry such as bracelets , necklaces and rings. The doll will be fixed on a box with sliding door in which other jewelry can be kept .
Now I still need to finish the creation with Powertex ( see next message soon )Which will be huge challenge because I never ever used that product or technique in my life !!!!
After that , I will start painting . This creations will be for my sister's birthday and I was lucky to get two samples of the paint she will be using in her new bedroom , so I will be able to use the same colors and shades in harmony with the decoration . How neat !!!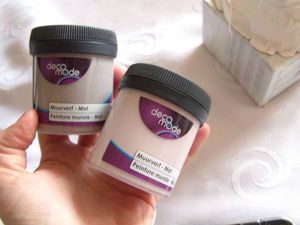 TO BE CONTINUED !!!