How sad is it… having so much creations standing on my table and not one is completely finished ppff…But hey , miracles do exist , and this is how my little "Caracol" was born ...She too was taking a lot of dust before she got finished. She waited to come out on a rainy afternoon I guess hihi
C'est quand même triste …J'ai tellement des créations sur ma table et aucune qui est finie ppff..Mais ,hey , les miracles existent et voici comment ma petite « Caracole » est née…elle aussi, était en train de prendre de la poussière avant d'être finalement achevée . Elle a attendu la pluie avant de ne sortir de sa coquille je suppose hihih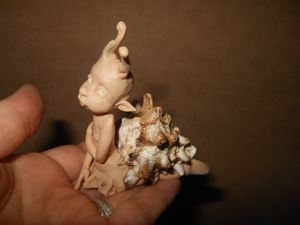 She is completely made out of polymer clay ( Fimo ) and the shell on her back is a real one . Her body is painted with gouache paint ( not the ideal paint for polymer clay , I know, but I really like working with them !! ) .
The hair are tiny plugs of artificial fur . The grass is artificial too , but looking very real huh ??
Elle est complétement faite en pate polymère ( fimo) et la coquille est un vrai exemplaire . Le corps est peint avec de la gouache ( qui est , c'est vrai, pas très idéale pour peindre de la pâte polymère mais moi j'adooooore travailler avec ).
Les cheveux sont en fait de petits bouts de fourrure artificielle et l'herbe sur laquelle elle repose est artificielle aussi mais elle à l'air vrai , non ?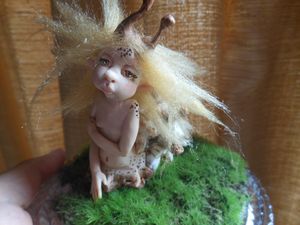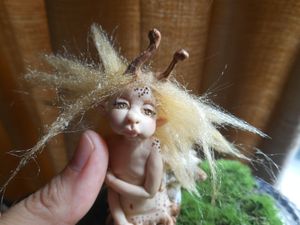 Little anecdote : the facial features ( check, lips, ..) are being "blushed" with real make up (blush) . Even the cheap ones (like mine hihi ) are doing very well . I don't like the face features blushed with paint , its looks so unnatural( to me ) …
Petite anecdote : le visage à été rehaussé avec du vrai maquillage ( du blush) . même le moins chers (comme le mien ) fait très bien l'affaire . Je n'aime pas du tout travailler avec de la peinture sur le visage car cela ne fait pas naturel (opinion perso , quoi )