Thinking about the hairlook for this fairy I just came by a field full of « meadow barly » (thanks , Google hihi) .
En pensant à une coiffure pour ma creation, me voilà que je passe devant un champ plein d' Orge faux-seigle (merci google hih)
And check out the result , how cool it that , very "afro" ahahha:
I spent 3 hours ( but very fun ones) adding tiny plugs one by one on the head ; I first added some fress clay on the back of the head so I could insert the tiny plugs
Et voila ce que ce donne , cool hein . Très afro hihih
Comment j'ai fait ? j'ai ajouté un bout de pate fimo fraiche sur la tête dans laquelle j'ai appliqué, un par un , des petits bouts d'orge. Je me suis amusé pendant 3 heures avec ça hhaahaha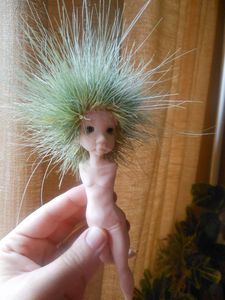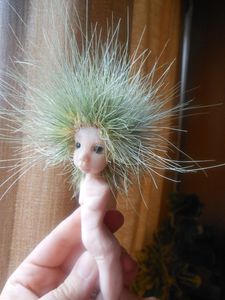 As I started working with natural material so why not continue on the wings …with maple tree seeds !!! Yeah !!! And its seems the ideal time of the year to find them .There's just a maple tree in the urban playground my son loves to play hihih . They are falling down like helicopters…how spectacular nature can be !!
Comme j'ai commencé à travailler avec des matériaux naturels pour les cheveux , pourquoi pas continuer avec les ailes …faites avec des fruit d'érable !!! Il semble être le temps idéal pour les trouver . Il y a juste un érable dans le parc ou mon fils adore jouer …IDEAL !! Ils tombent comme des hélicoptères vers le bas …la nature peut être spectaculaire , il faut le dire !!
Now my challenge consists in transforming these seeds into fairy wings …When removing the ball shaped point I discovered a hollow space where I could introduce a metallic wire . The seed is sealed and strengthened with varnish but because I had none I used white glue instead ..works fine too !!
I 'll just have to accept that even with the glue fixing , the wings will remain very fragile ..but that's just what makes the charm ahhaha …I guess …
Maintenant il fallait que je transforme ces fruits d'arbre en ailes de fees …
En enlevant la petite boule à l'extrémité , j'ai découvert un creux dans laquelle j'ai pu introduire un fil en métal . Le fruit est alors protégé et renforcé avec du vernis mais comme je n'en avait pas , j'ai utilisé de la colle blanche à la place ..marche très bien aussi !!
Je dois juste me mettre à l'évidence que les ailes, malgré le renforcement , resterons très fragiles …mais bon, c'est ça qui fait le charme hahahah ..enfin je croix …
Tatssaaaa… this is what the wings look like on the fairy ..not bad at all :-)
Tatssaaa..voilà les ailes sur la fée …pas mal non ?? :-)