The Yahoo Group "BEGINNERS POLYMER CLAY ART GUILD " proposed a free polymer clay project ( tutorial ) for and between members only .This month , it was member artist and friend Shateal (http://shateal.com/) who showed us how to make a gourd doll , with a gourd (of course hihihi ) and polymer clay as base material .This was something I hadnt done before so I was really excited to try out something completely new and different ....I havent followed the tutorial step by step but I gave my own "swing" to it ...
Here we go ....
You need a gourd of course , the size didnt matter . I received a tiny one by my friend Martine who makes great gnomes and other art with gourds (http://users.skynet.be/gnomes/pages/index.html )
Following the tutorial , I introduced wire (and toothpicks) there where the head and limbs will be placed ...
Then I sculpted the polymer clay parts and cured them ( head , hands and feet ) ...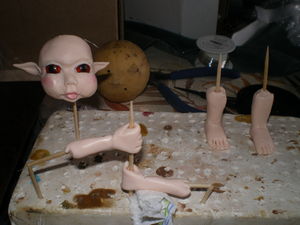 Then I sculpted the neck area and cured the whole gourd doll in the oven ...
and I fixed the legs ... Too bad the legs ended up not as straight as I wanted ...I will try to fix this when I will put the doll on its definitive base.
The arms are made in such way that they move so I can always change their position , I still dont know what she will be holding ...or not ...
Then I gave the doll some clothes simply made of bits and pieces of fabric glued together ...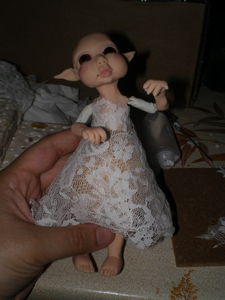 I gave her some hair ( fleece kinda stuff ) and a head scarf ...
and glued some sleeves around the arms and gave her a nice strass pendant in the shape of a star . That's why I will call her "Tinkle twinkle star"
She 's now fixed on a base and she is as good as ready , I still need to add some tiny finishing touches (eyelashes , base decoration , maybe painting the gourd with white paint ...) ... but that will be for tomorrow hihih . I hope you all like her ... She measures about 16cm heigh .