Hello,
Welcome to the blog about the story behind the making of my fantasy & faerie creations and other creative occupations in between two sculpts .
Im a self taught "artist" living in Brussels (Belgium ) , I do speak french , dutch , english and spanish and Ive always been very creative (playing music , drawing pictures , crafting ,...) and since 2005 I found a way to combine my creativity with my love for the faerie world (even if I havent seen a fairy with my own eyes , I really do believe in it and I see them with my heart ) ...so I mainly sculpt faerie characters and other things with fimo clay .Im not a professional artist at all , but I would like to share with you all the knowledge I've so far since I started sculplting and who knows you might get inspired and try to sculpt too ...
Im a very creative soul and Im always making things , even not faerie related ones , but hey , creativity doesnt stop at the faery world or at my sculpting desk ihihih ...so once in a while I will also share some other creative activities who are easy and fun to do and who might brighten up your day and make your hands itch too hihih (see blog category " being creative ...every day " )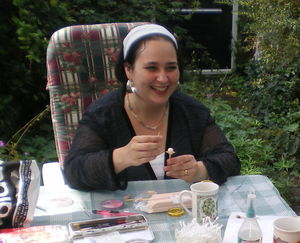 So thanks you for visiting my blog and do not hesitate to leave your comments , questions , remarks and even share your creations and ideas with me , I also like to be inspired hihih ... !
PS: Please respect my art work by not copying or using anything of my blog without my permission . Tips and tutorials are to be used for private use only !!!
You may always link to my blog by using my banners , which you will find by clicking on my blog category "my banners " . Please contact me if you want to exchange links !!!